Children's Author visit to Brunswick House!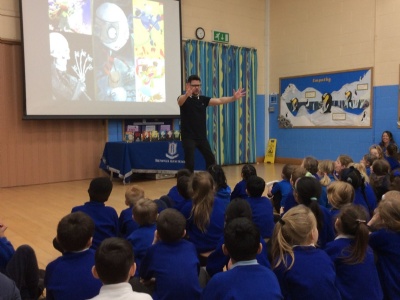 We were delighted to have Guy Bass with us to visit the children at the start of World Book week!
Many of our children met Guy Bass, a children's author, when he visited the school on the 27th February. Our children learnt about the importance of reading and listened to some exciting poems and stories from Guy's books. Lots of laughter could be heard coming from the hall. A book signing followed the talk and the children enjoyed chatting with Guy as he signed their books. A very exciting day!
Olivia said "Incredible experience! I am glad I got to meet him. I am looking forward to reading the book in class".
Dexter said "The poems were great and the slides. The "but why" poem was my favourite".
Thank you again Guy for visiting us!